As if the new short story collections,
Chronicles of Ave, Volume 1
, and
Hellscapes, Volume 1
, were not enough for a release week, I also had a new short story addition for the Annals of the Rising Dawn Collection! Been quite busy this past week with these releases, but wanting to make up for some lost time this summer.
This particular story is a stand-alone, but readers familiar with the Rising Dawn Saga and the short story "Temples Rising" will discover some very interesting things within it! It also has a very eerie relevance to world events happening today, especially with regard to my take, represented in fantastical fashion, of elite interests who foment wars in foreign lands under the banners of things like "nation-building" and "regime change". Below is the cover and official synopsis. Really hope you enjoy it! It is just 99 cents and is now available on Kindle, Nook, and iBookstore (with Kobo at any time, just waiting for that version to go live)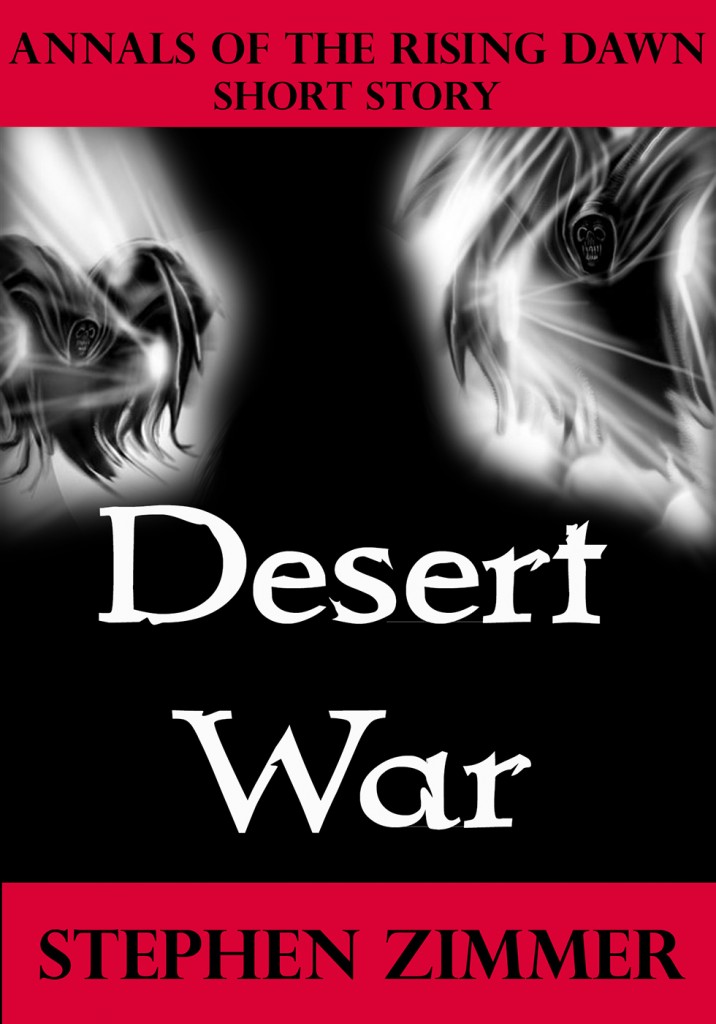 Kindle Link:
http://www.amazon.com/Desert-Annals-Rising-Dawn-ebook/dp/B00F26IOSW
Nook Link:
http://www.barnesandnoble.com/w/desert-war-stephen-zimmer/1116861462?ean=2940148369455
iBookstore Link:
https://itunes.apple.com/us/book/desert-war/id703024646?mt=11
available shortly on Kobo
Synopsis:
"Desert War" tells the story of Saif, a man from the Order tasked with getting an ancient, powerful artifact out of Libu before those serving the Convergence can take it themselves. The nation of Libu is crumbling fast around him, as militant religious zealots backed by the political elite of the Convergence carry out the overthrow of the current regime. The insurgency is just one part of a much wider design, one that has been advancing over millennia, and the artifact must not fall into the wrong hands. With the streets of the capital filled with murderous, brutal insurgents, and being hunted by powerful enemies wielding supernatural arts, Saif has to find a way to get the priceless artifact to safe harbor. "Desert War" is a stand-alone short story that is part of the Annals of the Rising Dawn, a growing collection of tales set in the same history and world as the Rising Dawn Saga novels from Stephen Zimmer.